Buy VW Tiguan complete wheels at RZO
The VW Tiguan is the dynamic SUV from Volkswagen and convinces not only with intelligent technology, but also with its sporty design. The Tiguan reinvents itself again and again and stands for years for sovereignty, innovative strength and boundless loyalty.
Do you drive this popular Volkswagen and want to buy original rims for your VW Tiguan? Then you've come to the right place with us. RZO is your partner for original complete wheels! We will help you competently in choosing your VW Tiguan wheels and will be happy to advise you on the size, color and tire brand.
Complete wheels for your VW Tiguan
Original complete wheels for your Volkswagen Tiguan fit perfectly to the modern design of your SUV. Of course, the rim-tire combination is a matter of taste! Depending on your choice of Tiguan rims, your car will look sportier, more classic or more sophisticated. We are happy to help you find the perfect VW Tiguan wheels for your taste. Because we don't want you to compromise on looks and we are sure to find the right complete wheels for you and your Tiguan.
Another advantage of original complete wheels for your VW Tiguan is the unique driving experience. Because the rims have been optimally matched to your model by Volkswagen, you have lower fuel consumption thanks to the aluminum rims and can enjoy unique driving pleasure.
At Räderzentrum Osnabrück you will find a very large selection of original wheels for the VW Tiguan at any time - and for every season! Make an appointment with us now and let us advise you competently. We are also happy to mount the new wheels directly on your car.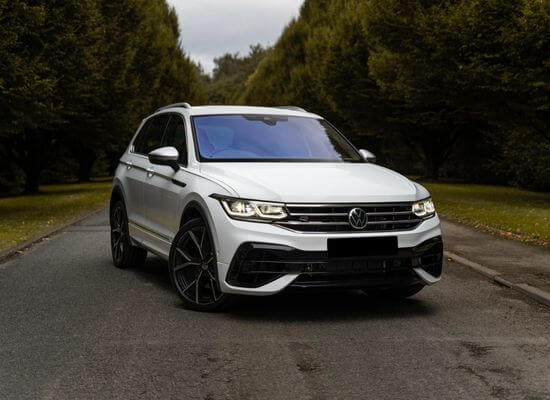 © Copyright by David Moffatt, Unsplash
VW Tiguan complete wheels for the summer
When summer is just around the corner, the VW Tiguan can also look even sportier. The warmer the temperatures, the more attention should be paid to original VW complete summer wheels. Thanks to the special rubber compound of the tires, there is significantly less wear and fuel is saved. Safety shouldn't be neglected either: Tiguan wheels for the summer have a wider tread to wick away moisture more quickly and improve braking performance.
Contact now your RZO complete wheel experts and we will find the perfect set for your VW Tiguan!
VW Tiguan complete wheels for winter
Volkswagen has also launched beautiful complete wheels for your VW Tiguan for the coldest season. Especially in winter you should rely on high-quality and original rims to get to a stop quickly in snow and ice and thanks to the special profil you have noticeably better grip while driving. Original VW Tiguan complete winter wheels are available in various sizes and colors - we would be happy to advise you on what best suits your model. Of course, the look is purely a matter of taste, but we are sure that we will have the perfect original VW Tiguan complete wheels in stock for your winter time.
How to recognize VW Tiguan original rims?
You want to buy new wheels or rims for your Volkswagen Tiguan, but you are not sure if they are original VW? Then just follow these tips:
Volkswagen engraves the well-known VW logo on the inside of the rim. So look out for the logo!
Check the part number, which can be found on the inside of the rim.
Look at the size and offset on the inside of the VW rim.
Pay attention to the high quality - unevenness or even larger defects indicate counterfeits. Volkswagen rims are always manufactured with the highest precision and are subject to strict testing.
Buy your VW Tiguan complete wheels only from the dealer you trust! At RZO you will only receive tested original VW rims.
What are the advantages of original VW Tiguan rims?
If you opt for original complete wheels for your SUV VW Tiguan, the advantages are obvious. The original Tiguan wheels fit perfectly on your Volkswagen model and not only ensure the perfect fit, but also increase the value of your car. The complete wheels have been ideally designed for your vehicle and, thanks to the perfect interaction, can minimize any disruptive noise while driving and absorb annoying bumps or even bumps from potholes.
At RZO you get only original VW rims for your Tiguan! We are happy to advise you on the size, appearance and tire brand.
✓ First class quality & high durability
✓ Unique driving experience thanks to the reduction of shocks & noise
✓ Optimal performance & lower fuel consumption thanks to lightweight alloy wheels
✓ Upgrading of your VW Tiguan
✓ Timeless and modern design