Buy VW Caddy complete wheels online at RZO
The Caddy is one of the most popular family and company cars and is universally known. Hardly surprising, then, that this Volkswagen has received the next award: The industry magazine "firmenauto" chose the car 2021 in the category "small vans" with the first place. The Caddy thus successfully prevailed against 16 other models.
The fifth generation of the Volkswagen Caddy is even more flexible and modern than its predecessors. To round off the new look and feel, the matching original Volkswagen wheels are of course a must. You can buy high quality Caddy rims exclusively at your Räderzentrum Osnabrück.
At RZO we have at any time a very large selection as single rims and complete wheels in stock. We are sure that together we will find the perfect set for your VW Caddy. Feel free to contact us via phone or mail or drop by personally in Atter. We will help you with the agony of choice and with our expert knowledge.
Caddy complete wheels for your small van
The sophisticated and clear design of the new VW Caddy is also reflected in the shapely complete wheels. Whether you want to be sporty, modern or very classic on the road, at Räderzentrum Osnabrück you will find many different alloy wheels for your Caddy Volkswagen and at a fair price-performance ratio.
We can offer you summer tires VW Caddy in addition to winter tires VW Caddy, because only this way you will be safe and stylish on the roads in any season. Original VW Caddy wheels not only bring many advantages, they are also designed specifically for your model. You can count on a comfortable driving experience with original Caddy wheels, which minimizes all noise and gets the most out of your car.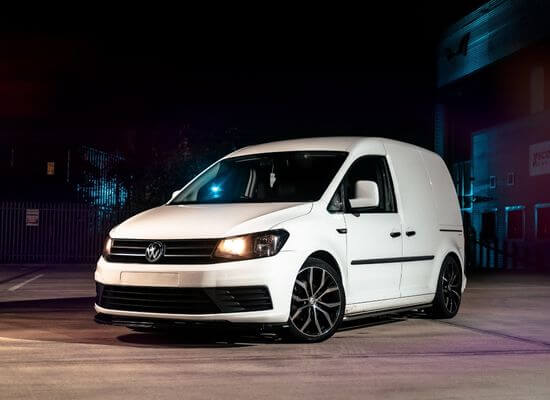 © Copyright by Ollie Walls, Pixabay
VW Caddy summer wheels for the hot days
The warmer it gets, the more the desire arises to take a trip with the family and enjoy the good weather to the fullest. What could be better than setting off in your own VW Caddy? In addition to a car check, the original VW Caddy summer wheels should not be missing.
The rubber compound of the summer tires was designed specifically for the high summer temperatures and can respond optimally to the hot asphalt thanks to the hardness. Due to the special rubber coating of the Caddy summer wheels, there is less abrasion when braking, a better grip on the road and due to the lower wear to a longer mileage. The tread of these tires for your VW Caddy is significantly wider than that of the winter wheels and can therefore quickly and safely remove wetness. Important for you to know is that your braking distance with summer tires in summer is significantly shorter than with winter tires.
Our tip is to change the wheels of your Volkswagen Caddy at any time of the year in order to be safe and optimally prepared on the road in every season. If you are not sure which complete wheel set fits your Caddy, our wheel experts will be happy to advise you by phone, email or directly on site in Osnabrück!
Volkswagen Caddy winter complete wheels for the cold season
If you want to be safe on the road with your Caddy even in cold temperatures, original Caddy winter wheels are essential. As soon as the temperatures are permanently below 7 ° C, it is called: Change to winter wheels! If you don't want to keep an eye on the weather all the time, remember the old rule of thumb "from O to O!" (from Easter to October) and check the condition of your wheels. If you are planning trips to cold areas, you should also plan a wheel change in advance.
With original Caddy winter wheels you can rely not only on a seamless appearance, they also provide thanks to the special rubber coating and the special tread for extra safety in snow and ice on the roads. The rubber of winter tires is significantly softer than that of summer tires and can thus guide you with more grip through winter road conditions. Furthermore, you benefit from a shorter braking distance than if you would drive in winter with summer tires. At Räderzentrum Osnabrück you will find a wide range of high-quality original Volkswagen Caddy wheels with matching winter tires from well-known tire manufacturers.
If you decide on a new set of Caddy winter wheels on site at RZO, we will be happy to carry out the wheel change directly and store your old set of wheels safely and under optimal conditions with us.
How do I recognize original VW Caddy wheels?
You want to upgrade your beloved VW Caddy with a set of original rims and don't know if the wheel set you found is original VW wheels? Then pay attention to the following tips at best:
Volkswagen always engraves the well-known VW logo on the inside of the Caddy rims.
Check the part number engraved on the inside of the rim.
Look closely at the size and offset on the inside of the VW Caddy rim.
Look for high quality - unevenness or even major defects indicate counterfeits. Volkswagen Caddy wheels are always manufactured with the highest precision and are subject to strict testing.
Buy your VW Caddy wheels only from the dealer you trust! At RZO you will only receive tested original VW Caddy alloy wheels.
What are the advantages of original Volkswagen Caddy rims?
When you buy original complete wheels for your reliable VW Caddy, we will be happy to advise you on the different models. The original Volkswagen Caddy wheels have not only been manufactured to a very high quality, they have also been optimally adapted to your model so that you can get the best driving experience out of your Mini Van.
At RZO you get only original VW Caddy wheels! We are happy to advise you on the size, appearance and tire brand.
✓ First-class quality & long service life
✓ Unique driving experience thanks to minimization of interference noise
✓ Optimal and long running performance
✓ 100% accuracy of fit
✓ Upgrading of your VW Caddy
✓ Timeless, modern and clear design