MINI CABRIO rims easy to buy online at RZO
If you too drive a stylish MINI CABRIO and are looking for new MINI CABRIO wheels, you've come to the right place at RZO. We will be happy to help you choose new MINI CABRIO wheels!
In our warehouse you will always find a very large selection of MINI CABRIO wheels, so we are sure that you will find the perfect size, color and design with us. We will be happy to advise you by phone, WhatsApp, e-mail or directly on site if you can't decide from all the choices.
But one thing is guaranteed when you buy a MINI CONVERTIBLE rim: At RZO you will only receive original goods with high manufacturer quality. Registration with the TÜV is not necessary, a perfect fit for your convertible is 100% guaranteed and driving pleasure is guaranteed.
MINI CABRIO complete wheels for your small car
Original wheels from MINI provide the perfect driving experience with your MINI CABRIO. The wheels are absolutely precise fit for your model and thus ensure not only lower fuel consumption, but also a special ease of driving through the MINI CABRIO alloy wheels.
Buy your MINI CABRIO complete winter wheels or MINI CABRIO complete summer wheels now and enjoy unique driving fun - without any noise while driving.
At Räderzentrum Osnabrück you will find a large selection of original MINI CABRIO wheels for your convertible. No matter what size or color or design you are looking for, at RZO you are guaranteed to find what you are looking for. Our MINI CABRIO range covers MINI CABRIO winter wheels as well as MINI CABRIO summer wheels, because it is important to us that you are safe and stylish on the road in every season.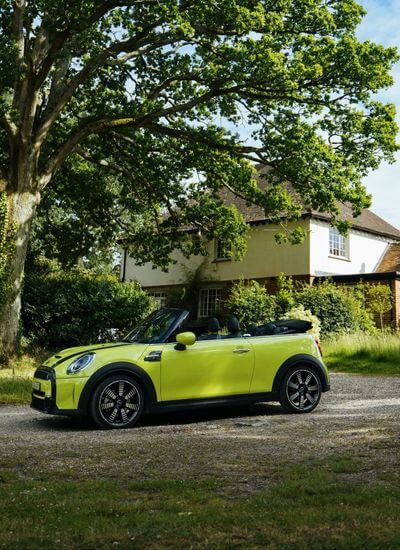 © Copyright by Severin Demchuk, Unsplash
How do I recognize original MINI CABRIO rims?
You want to buy new rims for your MINI CABRIO and are not sure if they are original wheels? Then pay attention to the following things:
The MINI brand logo is engraved on the rim.
Look at the part number, which can be found on the inside of the rim.
Look for other information about the rim, such as the size and offset. You can also find this rim data on the inside of the MINI CABRIO rim.
Look for a high quality - unevenness or even major defects can indicate a plagiarism, because each MINI CABRIO rim is manufactured with the highest precision and undergoes rigorous testing before it reaches the market.
Buy your MINI CABRIO complete wheels at the dealer you trust! At RZO you will only receive tested Original MINI CABRIO wheels.
What are the advantages of original MINI CABRIO wheels?
If you decide on original MINI CONVERTIBLE rims, you buy the 100% perfect fit and the perfect look for your MINI model right away. Not to mention the increase in value of your vehicle. With original MINI CONVERTIBLE complete wheels, you can expect a long mileage - the rims can also be resold with almost no price loss. So the investment is worth it in the long term too! The lightweight MINI CONVERTIBLE alloy wheels ensure a great driving experience and minimize any disruptive noise.
Thanks to the wide selection of original MINI CABRIO wheels at RZO, you're sure to find the perfect set for you and your runabout.
✓ High-quality processed original rims
✓ High durability
✓ No TÜV registration necessary
✓ Upgrading of your MINI CABRIO
✓ 100% accuracy of fit
✓ Timeless and modern design