MINI rims easy to buy online at RZO
You drive a popular MINI and want to make your small car stand out even more from other models with original MINI rims? Then you've come to the right place at Räderzentrum Osnabrück. We are always happy to help you choose new MINI wheels. Just tell us which model you drive and which design you like best and together we will find the perfect MINI alloy wheel for your city runabout.
At RZO you get only high-quality original MINI wheels - whether for summer or winter. The MINI wheels are 100% accurate for your model and therefore do not require TÜV registration. Simply choose a new MINI wheel set and have it mounted directly on site in Osnabrück. It has never been so easy to buy MINI wheels!
MINI complete wheels for your little racer
Thanks to the high manufacturer quality, original MINI wheels have a long service life and can often even be resold at good prices and without loss of value. If you choose original MINI complete wheels, you can count on a 100% perfect fit for your little runabout and avoid annoying registrations at the TÜV.
At RZO you will find a wide range of original MINI wheels for your small car. Whether you drive a MINI COOPER, MINI COUNTRYMAN, MINI CABRIO or MINI CLUBMAN, for example, we can find the perfect MINI complete wheels for winter and summer for every model.
How do I recognize original MINI alloy wheels?
You want to equip your small car with a new set of original MINI rims and you are not sure if they are really original rims? Then pay attention to the following tips when buying the new set:
MINI rims have the brand logo engraved into the rim.
Note the part number, which can be found on the inside of the rim.
Look at other information about the rim, such as the size and offset. You can also find this rim data on the inside of the MINI rim.
Look for a high quality - unevenness or even major defects often indicate a plagiarism, because each MINI rim is manufactured with the highest precision and passes through a strict inspection before it reaches the market.
Buy your MINI complete wheels from the dealer you trust! At RZO you will only receive tested Original MINI wheels.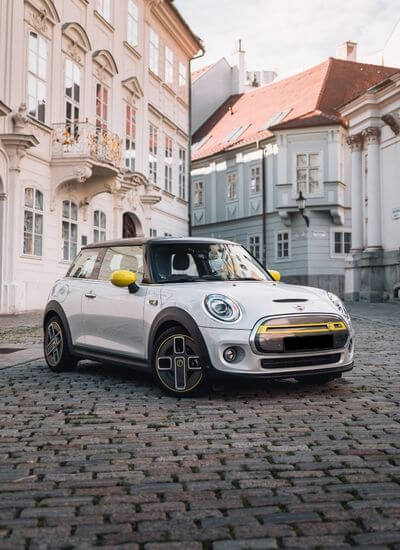 © Copyright by Martin Katler, Unsplash
Original MINI complete winter wheels at the best price
By buying original MINI winter wheels, you can not only drive through the cold season in style, you also enhance the overall value of your car. At RZO you can get original MINI winter wheels at the absolute best price and with high manufacturer quality.
If you would like to resell your MINI winter rims at some point, feel free to offer them to us or put a down payment on a new set of MINI rims. MINI original rims hardly lose any value, so the investment is more than worth it in the long run.
You are unsure which MINI winter wheels fit your model? Then make an appointment with RZO now and we will be happy to advise you on your options. Of course, we can also give you our recommendations free of charge by phone or e-mail. Thanks to the large selection of MINI wheels in our warehouse, we are guaranteed to quickly find the perfect size, color and rim look for your small car and can mount or send you your new wheels directly.
Why drive MINI winter wheels in winter?
As soon as the temperatures drop further and further and winter approaches, it is advisable to rely on high-quality and original MINI winter wheels. Due to the extreme weather, the complete wheels are subjected to different stresses than in the summertime and must therefore be adapted to the new conditions. Because on the road only one thing counts: you have to be able to drive safely and stably at any (seasonal) time. And that is possible with original MINI wheels!
Original MINI winter wheels can distribute the power more efficiently to the brakes and, thanks to the tire profil, provide more grip and a shorter braking distance on ice and slippery roads . If you buy new winter wheels for your MINI, make sure that they are original MINI rims. So you buy the best driving experience and the greatest mileage at the same time.
According to ADAC, the legal minimum tread depth of 1.6 mm only covers basic safety. If you really want to drive safely in winter, you should have a minimum tread depth of 4 mm and replace your winter tires after 6 years at the latest. Due to the cold temperatures, the rubber compound of the MINI winter wheels becomes so hard that the grip decreases and the braking distance increases.
Why original MINI summer wheels are important
The summer not only invites you to be in a good mood, but also to buy MINI summer wheels! We'll be happy to tell you why the change from MINI winter wheels to MINI complete summer wheels isn't just for visual reasons. The hot summer temperatures demand a lot from the bikes. The rubber compound of the MINI summer tires has to be significantly harder to minimize abrasion on the hot asphalt and to keep the braking distance as short as possible. The profil of the tires is also different and significantly wider compared to MINI complete winter wheels. This has the advantage that the rainwater can drain off faster and the car has better grip. Last but not least, original MINI complete summer wheels give your speedster a flawless look. The original MINI rims are 100% a perfect fit for your model and also blend in perfectly with the overall appearance of your vehicle.
At RZO you will find a large selection of original MINI alloy wheels for every MINI model. We advise you quickly and competently regarding the design, the color and the possible size.
What is the advantage of MINI summer wheels in summer?
In summer, it makes perfect sense to change to original MINI summer wheels for your little racer in order to be able to continue to drive safely and stably. The high summer temperatures demand a lot from the rubber compound of the tires and so it is advisable to drive original MINI summer tires, whose rubber is much harder and more robust. On the hot asphalt, abrasion occurs much faster - even when braking at high speeds and you need to stop quickly. For this reason, the rubber of original MINI summer wheels is significantly harder than that of winter tires.
The tire profil of MINI complete summer wheels is also significantly wider so that rain can be wicked away more quickly. This is the only way for your speedster to have the necessary grip to quickly come to a standstill.
If you still hesitate to put on MINI summer wheels in summer (despite the advantages mentioned), you might be convinced by the argument that you can even save fuel thanks to the rubber compound of summer tyres. The abrasion is significantly lower than if you were driving MINI winter wheels in summer! And thanks to the better mileage, you can enjoy your MINI wheels for much longer if you replace the MINI alloy wheels seasonally.
Why not drive MINI winter wheels in summer?
It is not without reason that you should change your bikes in summer and winter. The different temperatures demand a lot from the rubber of the MINI summer tires and MINI winter tires and, above all, different ones. In principle, MINI winter wheels should not be ridden in warm summer temperatures. The rubber wears out much faster and, due to the narrower profil, ensures a significantly longer braking distance in wet conditions.
If you need to get through the winter safely and stably, opt for original MINI winter complete wheels from RZO. We'll be happy to advise you on size, color and design - because one thing's for sure: In winter, you can also be on the road with beautiful original MINI wheels and don't have to compromise on looks, driving feel or safety. That's what MINI winter wheels stand for!
What are the advantages of original MINI wheels?
When you decide on original MINI alloy wheels, you also buy the quality directly. MINI develops complete wheels under the largest quality and safety controls - ideally matched to the respective MINI model. The light aluminum rims from MINI not only match the overall appearance of your car perfectly, they also ensure maximum driving comfort.
At RZO you will find a very large selection of original MINI wheels and MINI complete wheels for your car. You can choose from many different sizes, colors and stylings to create the MINI you always wanted. Whether elegant, sporty or timelessly modern, at Räderzentrum Osnabrück you are sure to find the perfect MINI wheels.
✓ High quality processed original rims
✓ High durability
✓ No TÜV registration necessary
✓ Upgrading of your MINI
✓ 100% accuracy of fit
✓ Timeless and modern design